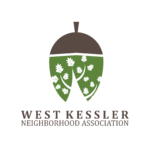 As we welcome the arrival ­ of 2018, we would like to look back at some of the West Kessler events of 2017.
Early in 2017, we rolled out our new West Kessler logo which utilizes an acorn motif. The acorn is the seed of the mighty oak tree, and the new logo symbolizes the potential and strength of our neighborhood.
An example of this potential is the creation of the West Kessler Native Arbor Initiative whose mission is to plant native trees in order to make our surrounding area more attractive and a healthier place to live. The initiative is a collaboration with the University of North Texas, and the US Army Corps of Engineers as part of a larger science-driven effort directed towards the restoration of healthy urban tree canopies. In 2017 we planted 35 trees on earth day and our goal for 2018 is to plant 80 trees. Stay tuned for more information.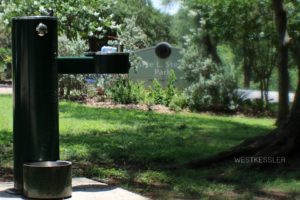 We are also pleased to announce that we were able to have a drinking fountain installed at Annie Stevens Park. The drinking fountain includes a basin at ground level for pets too. This was a joint initiative with funding provided by West Kessler, Stevens Park Estates, Oak Cliff Green Space and a grant from Heritage Oak Cliff.  Several other grants were awarded to West Kessler from Heritage Oak cliff this year and are used to offset the costs of publishing our directory, providing electricity in public areas, printing stationery and letterhead, as well as for the filing fees for our 501(c)(3) non-profit charitable designation.
We work hard in West Kessler, but we also know how to have some fun. This year marked our 4th year entering a custom-made parade float in the Oak Cliff Mardi Gras Parade. Thanks to hard-working neighborhood volunteers, the West Kessler float was one of the best floats in the parade. The association contributes about 10% of the total associated costs – the rest comes from donations by the generous neighbors of West Kessler.  And the pre-parade brunch was over the top with amazing food, festive drinks, chicory coffee, and beignets.





In 2017 we witnessed an era of change as North Oak Cliff continues to evolve under developmental pressures.  For example, to the west of N. Oak Cliff Blvd near Davis Street, David Weekly has begun construction on the development of up to 57 homes. Projects like this and others around North Oak Cliff hint at the desirability of our area.  We will continue to review new projects and seek input from the neighborhood to ensure that projects would positively impact and enhance the neighborhood.
In somber reflection, it was particularly weighty and mournful to say goodbye to our neighbor Jacques Groth this year and our heart still aches at the news of his passing. He was a longtime resident and avid supporter of West Kessler, Heritage Oak Cliff, and Twelve Hills Nature Center.  Along with saying farewell to some, we continue to welcome new neighbors into West Kessler. This year 12 homes have sold in our neighborhood and 4 more remain on the market. We welcome warm-heartedly these new neighbors (many with small children) and are pleased to have seen some of them at the many neighborhood social events we organize throughout the year.
What a year it has been! All of this would not be possible without the help of our tireless board, generous volunteers from the neighborhood, and your financial support. We depend on the contributions from folks like you to support our work in the neighborhood.  If you haven't already, please consider supporting us through a voluntary dues donation. We are a 501(c)(3) charitable organization and all donations are tax deductible.
Cheers to you and your family, to our lovely neighborhood, and to all the kind neighbors of West Kessler. Happy New Year!
Joseph Beckham
President, West Kessler Neighborhood Association