Welcome to West Kessler
We absolutely love living in this area and as much as we hoped it would remain a secret, the word is out. Whether it is a cornucopia of unique period homes or the luster of the Bishop Arts District, the West Kessler area will be the foundation for your family to grow roots and make your house a home. We are a compassionate community that looks out for one another and provides opportunities to build lifelong friendships.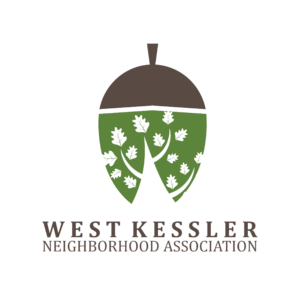 West Kessler is a neighborhood named for George E. Kessler in northern Oak Cliff, Dallas, Texas. West Kessler is from the Stevens Park Golf Course on the North Side, West Davis on the South, Hampton Road on the West and the Twelve Hills Nature Center to the East.  
George Edward Kessler (July 16, 1862 – March 20, 1923) was a German-American pioneer city planner and landscape architect. Over the course of his forty-one-year career, George E. Kessler completed over 200 projects and prepared plans for 26 communities, 26 park and boulevard systems, 49 parks, 46 estates and residences, and 26 schools. His projects can be found in 23 states, 100 cities, in places as far-flung as Shanghai, New York, and Mexico City.
West Kessler is home to approximately 150 households. The topography of our neighborhood has inspired some interesting homes over the years. The older developments have many late-1930s Tudor cottages, while later additions include Austin stone and brick houses in traditional and ranch styles. Of particular note are the Dilbeck-style split levels into the hillside adjacent to Hampton Road.
Common Questions
 Click the question to expand the answers: