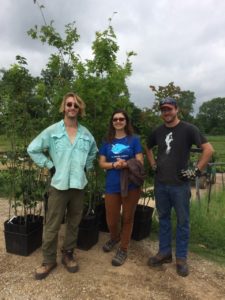 West Kessler Native Arbor Initiative (WKNAI), in cooperation with the University of North Texas and the Lewisville Aquatic Ecosystem Research Facility (LAER), has free native trees available for planting on Earth Day. Grown from seeds collected from the Great Trinity Forest, they have been nurtured the last 3 years by research biologist at the LAER facility as part of a comprehensive restorative propagation strategy for the Great Trinity Forest. These Bur Oaks, Black Hickory, Shumard Red Oaks, and Red Mulberry are all native species that can thrive in our local soils and climate.
Join WKNAI on Saturday, April 22, 2017, from 10 am to 2 pm as we head over to North Boulevard Terrace to plant these trees at their new homes.
Meet at Joseph and Angie's house
808 N Hampton Rd
Bring tools if you have them (picks and shovels)
All participants will enjoy a free box lunch from Jason's Deli and will receive a free West Kessler Native Arbor Initiative t-shirt.
If you have any questions, or to pick up your t-shirt before Saturday, call Joseph Beckham at 469-223-8047.