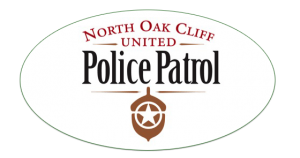 Several West Kessler neighbors are members of the North Oak Cliff United Police Patrol (NOCUPP). NOCUPP is a non-profit community organization operating the City of Dallas' Expanded Neighborhood Patrol program. NOCUPP's uniformed off-duty police officers drive marked squad cars along the streets and alleys of our neighborhood. The purpose of the patrols is to remove would-be criminals from our neighborhood. Armed patrol officers can stop suspicious vehicles or individuals, issue citations, and make arrests. These interventions deter crime by making our neighborhood less attractive to criminals.
The North Oak Cliff Police Patrol (NOCUPP) is an entirely member-supported non-profit organization which provides private police patrol service in North Oak Cliff. Membership dues pay for the off duty Dallas police officers and the leased Dallas police car. All of the membership dues collected go to funding the patrols, including the officer's time, the patrol officer cell phone, and the use of the fully equipped Dallas police car. Your membership helps to ensure the safety of our neighborhoods by increasing the police patrols and giving our officers more time to respond to issues. Since NOCUPP's 2007 founding, NOCUPP officers have made more than 700 arrests.
NOCUPP was founded in the fall of 2007 as a private police patrol of the Kessler Park Neighborhood. The NOCUPP patrol area has since expanded to include East Kessler, Kessler Park, Kessler Plaza, Stevens Park Estates, Stevens Park Village, West Kessler and Winnetka Heights. Kings Highway is joining NOCUPP in the Spring of 2015. Each participating neighborhood association has their own NOCUPP board member. The NOCUPP board members are volunteers who help maintain our membership rosters, property information sheets, track membership dues, and help get NOCUPP yard signs to those members who request them.
The cost is $1 per day.
There are two patrol cycles each year: November-April, and May-October. NOCUPP members may pay for a full year or for one patrol cycle at a rate of $182.50, or you may pay for an entire year at a rate of $365. Payments can be made by check or PayPal. Yard signs are available for $5 each.
As a NOCUPP member you receive:
Direct access to the NOCUPP officers via the NOCUPP mobile phone;

Rapid response to calls for help and suspicious person reports, regardless of where NOCUPP is on patrol;

Alarm response, even if you've had false alarms in the past;

Vacation watch;

Crime reporting and investigation support.
Note that subscriptions are not pro-rated and contributions are not currently tax-deductible.